I have created 3 windows HVMs and tried to install GplPv binary distribution and build the latest source.
However, they did not work. I think I carefully followed steps guided in XenWindowsGplPv wiki page.
It seems most users did not have problems to install GplPv drivers so I guess DomUs did not satisfy some of requirements
to install GplPv drivers. I know that it is hard to suggest opinions with limited information. but I came right into the dead end so
any proposals are very welcome.
Thank you so much in advance.
Windows Version (DomU)
<![if !supportLists]>- <![endif]>Windows Server 2003 R2 Standard x86 with sp2
<![if !supportLists]>- <![endif]>Windows Server 2003 R2 Enterprise x86 with sp2
Xen Version: xen 3.4.1
Windows Driver Framework SDK: 7600.16385.0
Dom0 OS: CentOS 5.3
DomU vCPU: 2
DomU Memory: 2048MB
Error messages when I built the latest source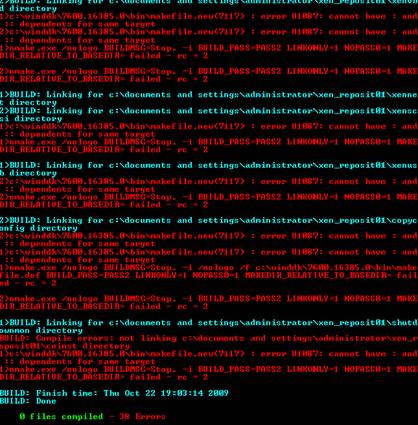 Error Message when I installed binary release