Hey Everyone,
Has any successfully installed this on a Toshiba A200?  Any feedback would be great.
Kind Regards
Matthew Ollerenshaw
Network Engineer
( +612 1300 887 959 | Ê +612 9890 8349 | + mollerenshaw@xxxxxxxxxxxxxx | www.visinet.com.au
Diploma (Network Engineering) | Microsoft Certified Professional ( MS Vista)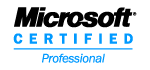 Terms & Conditions www.visinet.com.au/images/terms.pdf
This e-mail is intended for use by the named recipients only and contains confidential information. Opinions and other information in this message that pertain to the sender's employer and its products and services represent the opinion of the sender and not necessarily those of the employer.